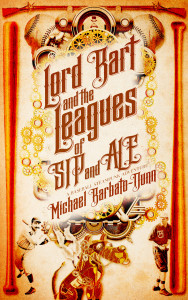 Friends, I ask for a favor that should only take a minute or two of your time.  My novel, "Lord Bart and the Leagues of SIP and ALE," is now entered in Amazon's "Kindle Scout" program — and I need you to nominate it.
How does it work?  The Kindle Scout page explains it best:
Kindle Scout is reader-powered publishing for new, never-before-published books. It's a place where readers help decide if a book gets published. Selected books will be published by Kindle Press.
All you need to do to nominate my book is go to this page:
https://kindlescout.amazon.com/p/2XS69DO0ZTBW2
You'll have to be logged in to your Amazon account in order to nominate it.  And if enough of you do so today, it could push the book into the "Hot and Trending" section of the Scout page.  That will increase its visibility (which means more eyeballs on my book and that, in turn, could snowball into more nominations).
Please keep in mind, nominating the book does NOT obligate you to buy it.  Your cost is nothing but a few minutes of your time.  In fact, the great thing is that if my book is chosen, you will get a free Kindle copy of it as a thanks.  If the book is not chosen, I do intend to find another publisher or self-publish.  You can sign up for my mailing list, in the sidebar of this website, in order to get updates.
Being chosen by Kindle Press would put the immense reach of Amazon marketing behind the book.  A lot of nominations does not guarantee it would be chosen, but it apparently helps.
Thanks so much for helping out.